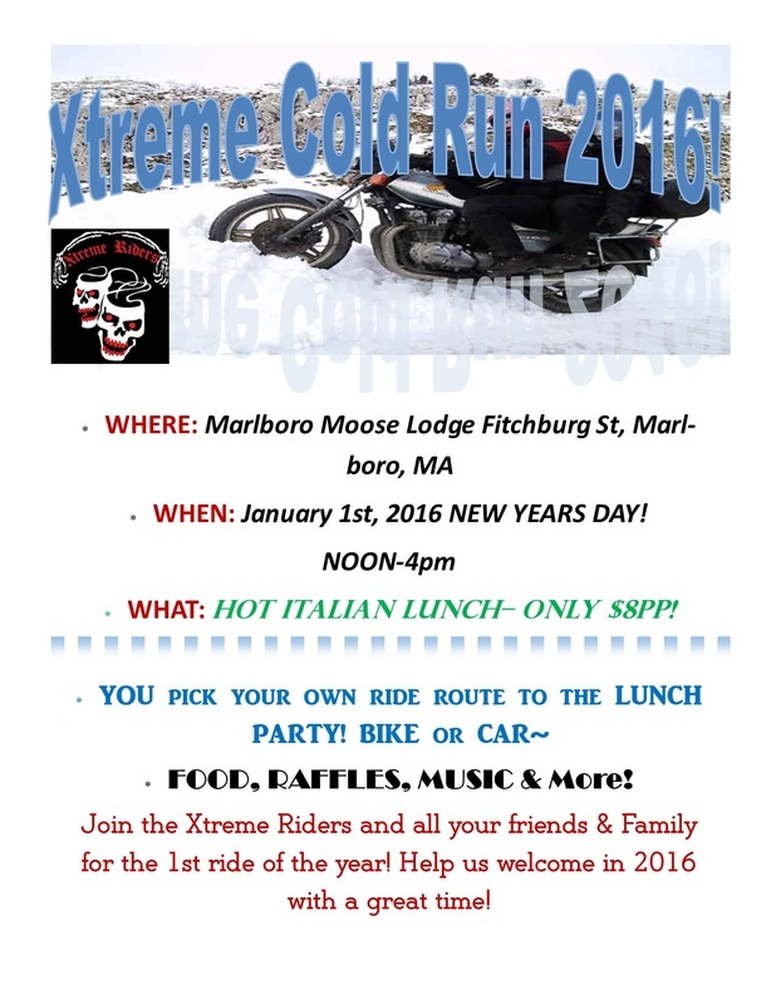 ---
---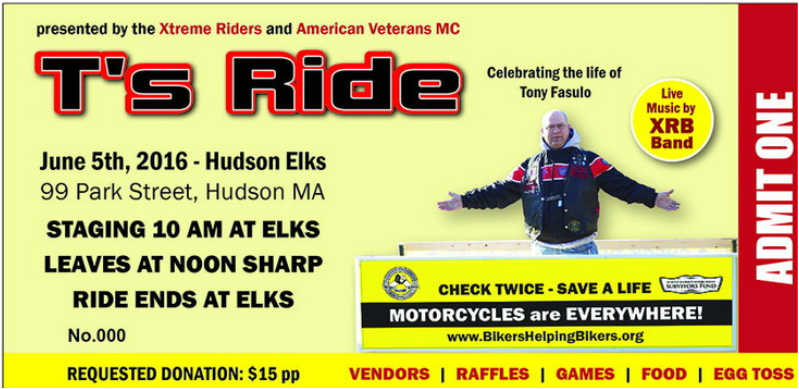 T's Ride
Sunday, June 5, 2016rain or shine, Ride or Drive, the Xtreme Riders invite you to join in a Memorial Ride and Celebration of the life of their Brother, Tony "T" Fasulo, who left us in May 2011, after crashing on Route 290.

$15 for rider, $10 passenger day of. the Elks Lodge Hall at 99 Park Street live music by "XRB" raffles, vendors, and biker games. We also have their HUGE indoor hall which holds 100's of people as well!

Staging begins at 10 a.m. and the Memorial Ride leaves at 12:00 p.m. SHARP.
Special Thanks to the American Veterans MC & SHS for helping us!
Funds raised after expenses donated to the Massachusetts Motorcyclists Survivor's Fund, to help other local families of riders killed and/or seriously injured in accidents, and to promote motorcycle awareness aimed towards reducing accidents.

For more info and advance tickets (which will put you close to the front on T's Ride), see

http://www.xtremeriders.com/ and

http://www.bikershelpingbikers.org/

**VENDORS**
Space is available!
$35 commercial / $25 club/group/non-profit
for the entire day, 9am-5pm., plus donate 1 raffle prize to our cause. NO FOOD VENDORS PLEASE, as the Elks will be having a food concession area for all.
Whether you are a Biker, know a Biker, or simply have a big heart and want to help an injured Biker, or their family after a sad loss of life, PLEASE come out and enjoy the day with us! Please tell and invite all your friends.
---
FUN RUN
July 23rd, 2016
Only $5pp....

Staging at 10am.. Robinsons Hardware parking lot, Nicholas Road. Framingham.

leaving at 11am sharp

Taking a little back roads ride to CT...16th Annual FUN RUN to NH for Go Cart races , batting cages and more! YEP!....same as our original FUN RUN 15 years ago~

Lunch on your own.....FREE DOOR PRIZES given out before the ride

see ya there!~~
---
---
16th Annual Xtreme Riders Season End BASH




Saturday, October 8th, 2015




Marlboro Moose Lodge $20pp


Fitchburg Street, Marlboro, MA


7pm-midnite




Food buffet served from 7-7:45




Live music, raffle prizes,


vibrator and OTHER races and games!


50/50 raffle..games....and more!